Who is the better striker: Tammy Abraham or Victor Osimhen?
Tammy Abraham and Victor Osimhen are two of the most exciting young strikers in the world of football. Both players have made a name for themselves in the last few years and have been linked with some of the biggest clubs in the world. So who is the better player?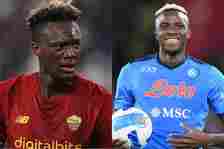 Photo credit: dailymail
Tammy Abraham is an English striker who currently plays for AS Roma. He is a powerful presence in the box and has the ability to score all types of goals. He is also a good dribbler and can take on defenders with ease. He scored 27 goals in all competitions last season and has been a key part of AS Roma's success.
Victor Osimhen is a Nigerian striker who currently plays for SSC Napoli. He is a pacy and strong forward who loves to dribble and take on defenders. He has had a great season in Seria A, scoring 19 goals and registering five assists. He is also known for his ability to score from long range, something that is becoming increasingly rare in football.
Both players have amazing talents, and it is hard to choose between them. Abraham is a more complete striker who is able to score all types of goals. On the other hand, Osimhen is a more dynamic forward who is able to cause chaos in the defensive line. In the end, it really comes down to personal preference and which player you think will fit better into your team.